Today finds me in the midst of a research slump of sorts. I can't help feeling that time is absolutely flying by and I haven't much progress to show for it. I spent half of the weekend in West Connemara on a reconnaissance adventure. It's all part of a project that involves photographing and surveying nine medieval tower houses, the majority which only exist in a very ruinous state so actually finding them can a bit of a challenge to say the least. Especially when what you're looking for is not much more than a pile of stones (albeit, finely cut stones with medieval dressing and features) in an incredibly stony landscape. A needle-in-a-haystack type scenario.
But I optimistically, or rather naively, figured I'd get at least three sites done in one day. I can laugh at this now because hindsight is of course, 20-20 vision and I now see that I was clearly delusional in my planning process. One of the consequences of archaeological work is that everything always takes much, much longer than ever expected - it's a sloooow process and a whole day can be spent in a car with a map and a camera driving the same teeny-tiny narrow roads twenty thousand times with only one site located in an entire day. It is obviously apparent that I forgot to take a few key things into account:
1. Sea mist + rocks = slippy hazard. Wellies don't have grips! Also, sea mist + freshly straightened hair = frizz.
2. Bad road signage. Did I say bad? I meant pathetic.
3. Even worse mobile phone coverage. Google maps doesn't work when you're in the middle of nowhere, which ironically, is exactly when you need it to work.
4. Angry dogs. And that's saying something because I'm a huge dog person. But scruffy, outdoorsy, mean dogs that love to show you how huge their teeth are, are a whole other story. Avoid.
5. Private land with suspicious residents with shifty eyes peeping out through their curtains at you, wondering why you're in their fields with a map, compass and camera. Ask permission
before
you go traipsing through their land!
6. Hunger. Driving around all day without a packed lunch in a place where every thing's closed on a Sunday is just plain silly. A rookie mistake. I mentally gave myself a punch.
7. Ensure ipod is
fully
charged before departing. 20% of battery life will not last the day. I
actually
gave myself a punch for this one. Major grr.
8. Lots of boats in the middle of a field away from the water are not funny and shouldn't be laughed at and photographed. Apparently this fact is common knowledge but somehow it eluded me. Queue awkward moment.
So I got one site sort-of located. In a whole day. Sigh. This is going to take a lot of time. I was slightly annoyed with myself for not being as prepared as I would have liked, but it was a bit of an impromptu adventure. You know how it is on a Sunday - you get up late, have a long, lazy breakfast (he makes amazing scrambled eggs!) and then suddenly the sun comes out and you make a very impulsive decision at the last minute to go out into the wilderness to find castles. He enthusiastically agrees. And half way through the journey it rains but you can't turn back.
But anyway! The world was made right again by baking chocolate chip and hazelnut cookies when we got home. Because tea and cookies make everything better and can solve all the world's problems.
(However I did come away with an invaluable knowledge that there is such a thing as living in a mobile home/trailer surrounded by blocks. Yes, the mobile home is
inside
the block walls. It appears that people actually build blocks around these to construct an actual house and then once the house is built around the mobile home, it is then broken up bit by bit and thrown out the window! End result - a mobile home shaped house! Yes, people actually do this and for some reason I found it both horrifying and weirdly fascinating!)
Anyway, I got a bit sidetracked there...!
My research might be in a bit of a slump at the moment but my scrapbooking certainly isn't. But one might be a consequence of the other. If I feel all researched-out, my eyes tend to wander to the shelves of pretty, pretty paper (our study is shared - half is an actual study for his academic work and half is my crafty space. Very distracting when you're surrounded by pastel coloured crafty goodies!) and suddenly my laptop and the stacks of books are moved to the floor and my desk becomes a sea of paper and thickers and embellishments. So I've been getting my scrappy groove on and have made epic progress in scrapping my summer 2013 photos. My huge pile of photos is gradually reducing in size, while my scrapbook albums are getting fatter every day. Once I finished my Christmas Journal I was eager to scrap anything non-Christmas related again and the 12x12 pages suddenly felt
huge
to work on. Consequently, I tended to get a bit fanatical with embellishments, especially flair, arrows and coloured paper clips. These are featuring heavily in my pages lately.
I just love scrapping summer photos and currently, I tend to use bright, happy coloured patterned papers (I'm loving Dear Lizzy, Amy Tangerine, Studio Calico, Crate Paper and Carta Bella) that match the happy, summery feel of the photos. And most pages invariably feature some shade of turquoise or aqua.
I've just counted and in the last six weeks, in between researching and writing, I've knocked out 29 layouts. Allow me to share a few today, in no particular oder.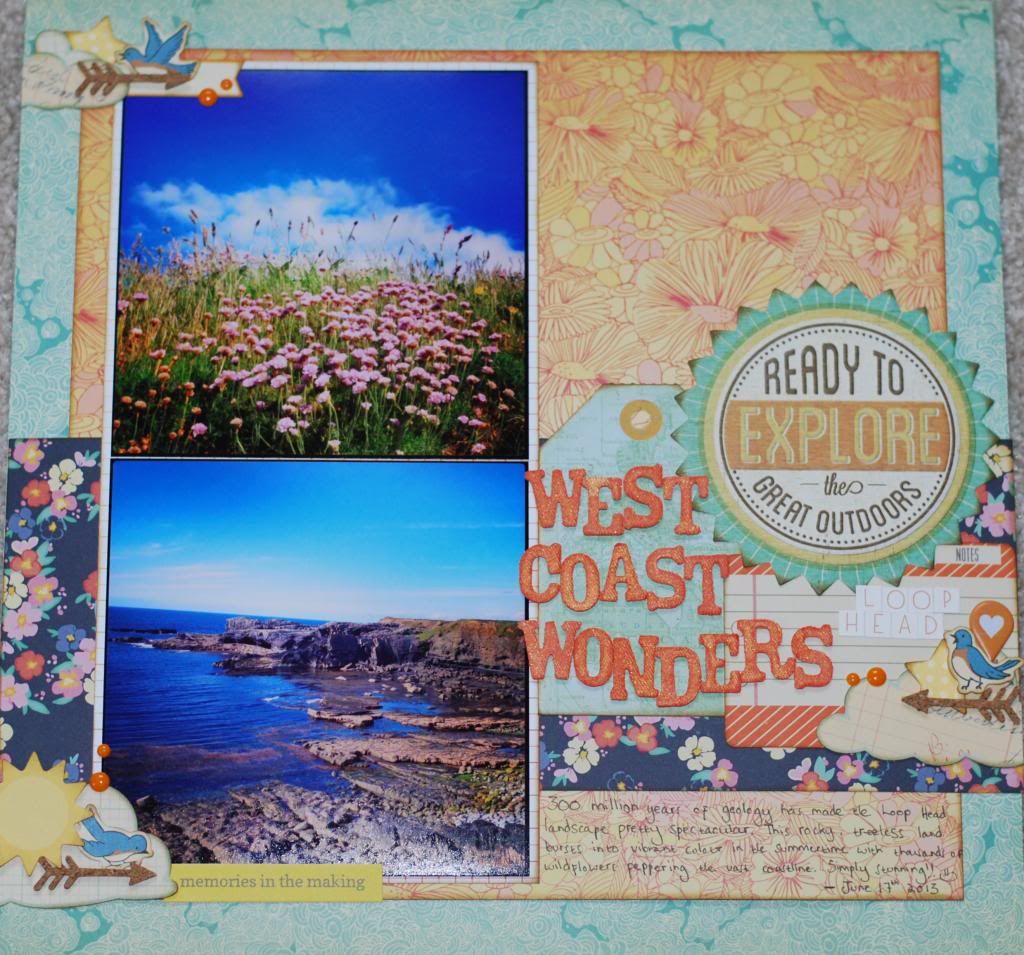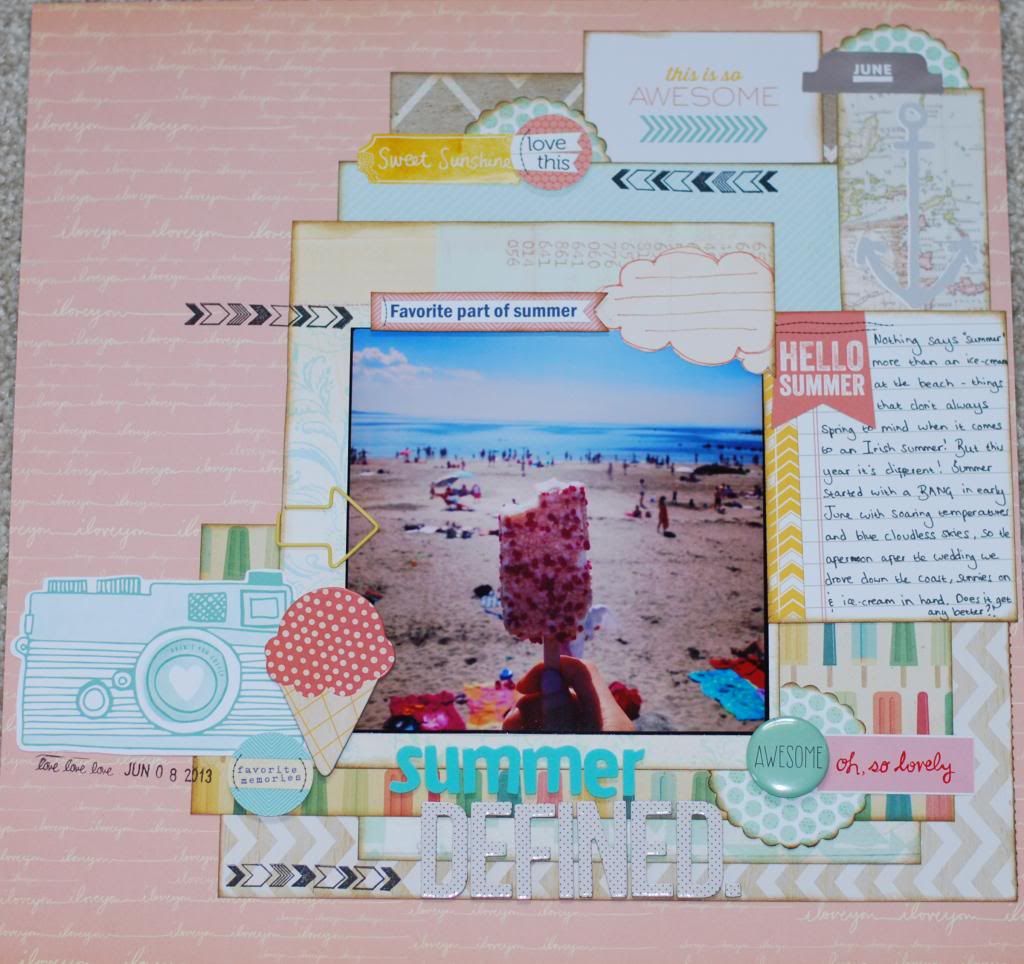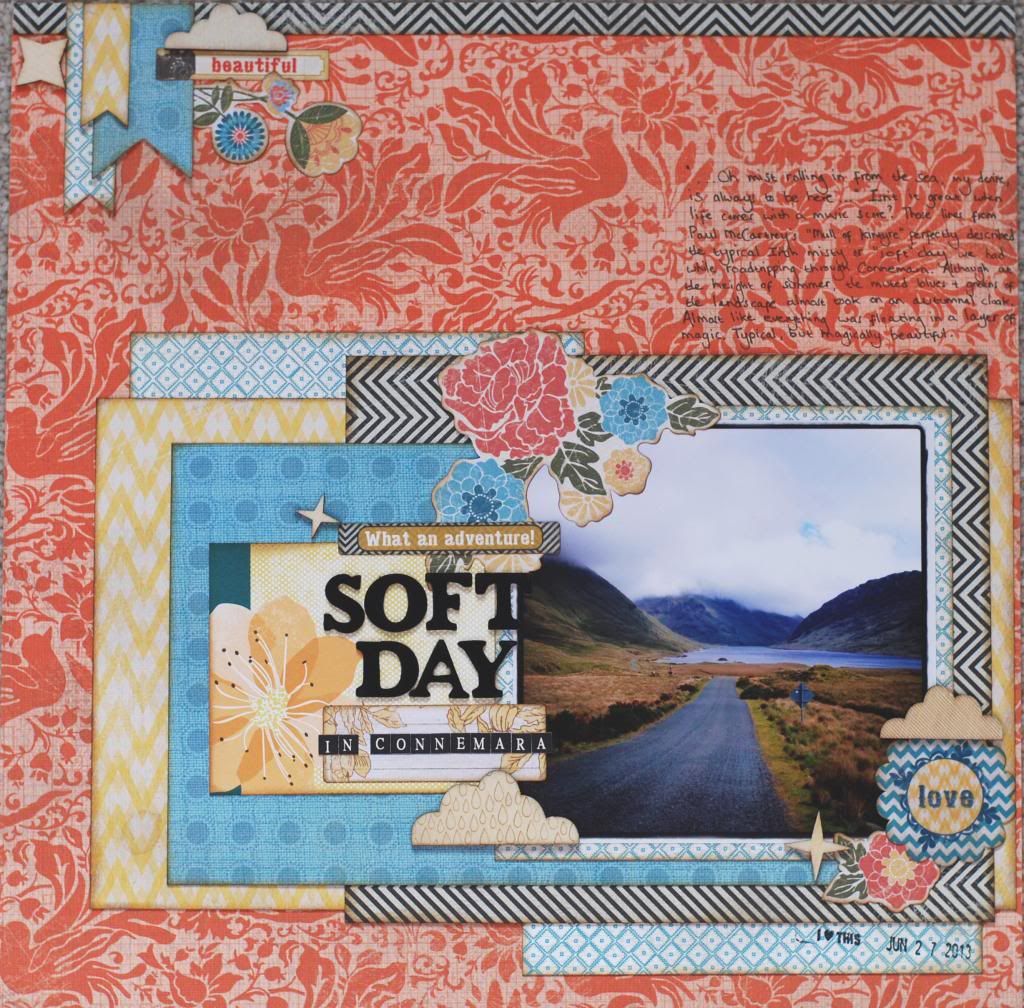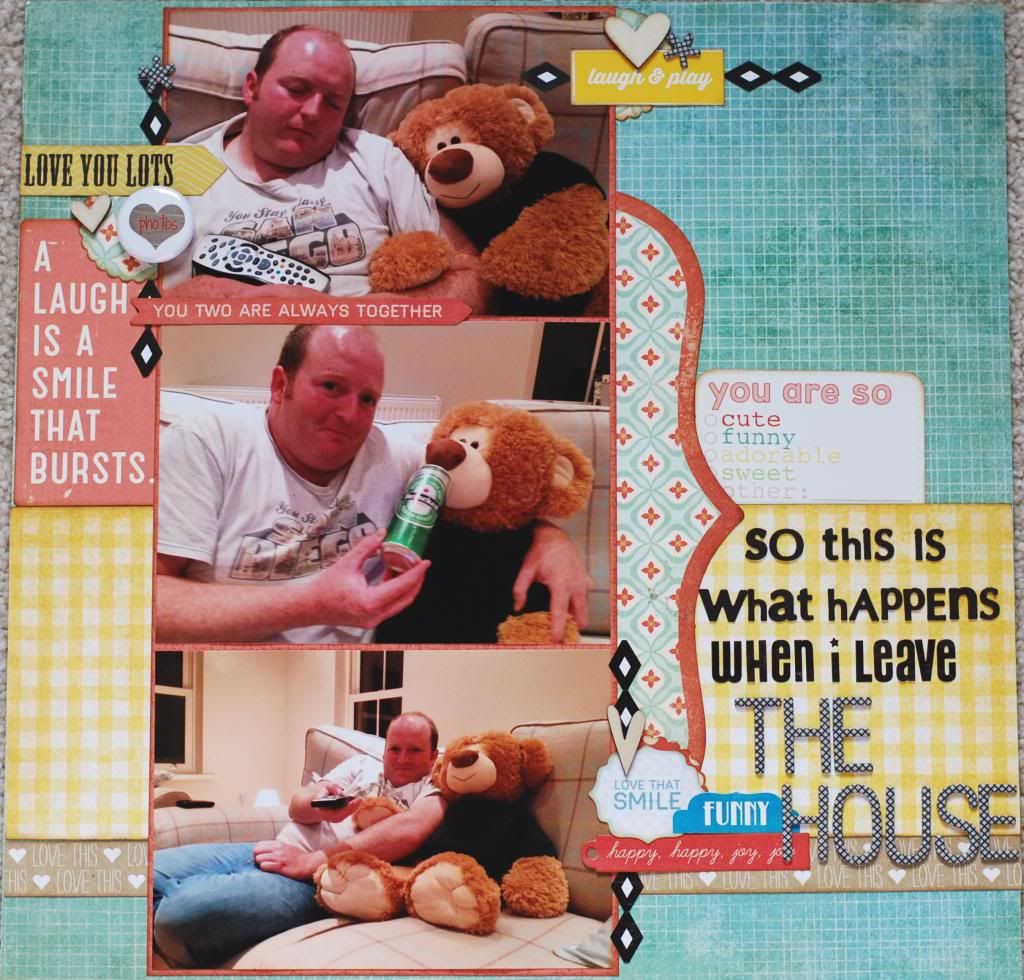 I just realised that I never added the journalling to this page. Oops!
(It's all written in a notebook but I haven't gotten around to transferring it to the layouts yet!)
I feel a need to explain the title of this page. It's actually lines from a Sawdoctors song called "Bailin" (Or if you're not speaking in a west of Ireland accent, it would be "Bail
ing
"). The song is all about one of the characteristic summer activities in rural Ireland - bailing hay. It's a huge event. I didn't realise just how huge until I moved out of the city and into the "
ssshticks
" last year. But I've since been indoctrinated in the importance of such pastoral activities and have a new found appreciation for the amount of organisation and dedication that is required for a successful day's bailin'. As well as the art of creating and arranging bales of hay with a tractor. So is it any wonder that the Sawdoctors are rather legendary in rural Ireland, especially here in the west, where they're from. But I think you actually have to
be
Irish to truly appreciate lines like
"
Get that wasp off my sandwich, hey!
"
Moving on...I don't know about you but I'm just about done with winter. I'm tired of horizontal rain and wind that can take your breath away. I'm tired of having to constantly leap over puddles. I'm tried of the cold steering wheel freezing my fingers and having to wait ages for my car to warm up.
It's definitely time to discard the boots and start wearing pumps again. And blazers. And all things spring-like. Maybe it's due to the amount of time I'm spending scrapping summer photos, but I'm dreaming about hot, sultry days spent in shorts and flip-flops sipping ice-cold drinks and snacking on strawberries and watermelons. Going for long bike rides on country roads. Walking barefoot through the soft grass. Having late-night barbecues and listening to Bob Marley.
But then you stroll through town, lusting over the new spring-summer collections that are filling the shops at the moment and creating outfit combinations in your head...
and suddenly it doesn't feel too far away.
Speaking of shopping...I had a bit of a long-awaited personal triumph last week and I immediately, predictably,
itched
to go shopping. (I am a self-confessed shopaholic. I will go into town to buy
one
thing and come away with eight bags of clothes and shoes and handbags and make-up. Yes, I am
that
girl!) As much as I promised myself that I wouldn't
immediately
hit the shops like a crazy person, I caved. But I did last three days in fairness! And now my wardrobe has gained a whole new spring collection, dominated by blue, for some reason. I just wish we had the weather to wear it all right now.
But I know spring is just around the corner. Here's the proof :)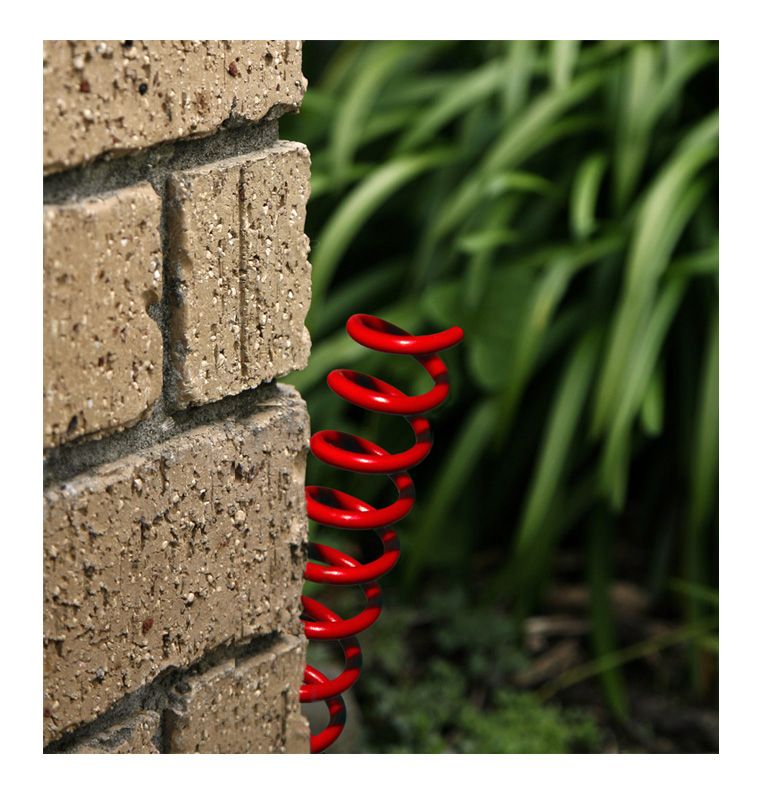 I don't know about you but it made me smile :)
PS: I'm trying out central alignment in this post, as opposed to the text being justified. Justified gets a bit boring after a while.
I'm liking it. I think I'll stick to central for now.
PPS: I have to come up with a new way of photographing my layouts. My current process is to drop a layout on the floor and hover over it with my 50mm lens, desperately trying not to cast a shadow over it! I think I'll try to photograph them on my desk next time. (I'm tired of having to crop out carpet from around the edges of the page!) Even if it does mean I'll have to do a major de-clutter first.
PPPS: Does anyone else watch Vikings? It's filmed here in Ireland and I'm loving it. Probably because the history nerd in me loves that it's about actually about Vikings (who are awesome!), but it also may have something to do with Travis Fimmel.
Seriously, can you blame me?