I had always enjoyed Christmas but was never as much of a "Christmas" person as a lot of my friends. Don't get me wrong, I wasn't all bah-humbug and rolling my eyes anytime I heard "Happy Christmas", but it's just that I always enjoyed summertime
more
. While most people wait excitedly for the festive season to arrive, I crave long, balmy summer days rather than cold, dark December ones. I am most definitely a summer person. I love the heat, the blue skies and the feel of soft grass beneath my toes. I love the way it never
really
gets dark in June. I love summer clothes and not having to wear a jacket when I go out. (I know…this is Ireland and a really good summer doesn't happen all that often but when it does there isn't anywhere in the world I'd rather be!)
As a child it was slightly different. I was filled with the typical wonder and excitement of Christmas, as only a child can feel. I would count down the days to Christmas, couldn't wait until our tree went up and was never able to sleep on Christmas Eve. I would wish for snow every single year and every single year I would be disappointed!
(It finally happened in 2010! A bit late…but the child in me loved it!)
I'm trying, I really am. It's just much, much harder.
Last December began like any other. I was well ahead with my Christmas shopping and by the 8
th
, I even had most of my presents wrapped. We were two months in our brand new home and I was looking forward to spending our first Christmas here. New enthusiasm for Christmas started to bubble up inside me. I couldn't wait to decorate and make the house as festive as possible.
Everything in the world was looking good.
Then one Saturday afternoon in mid-December I got a call from my Dad telling me that he was bringing my Mom to A&E with a pain in her side that wouldn't go away. That sick, dread-like feeling hit me in the pit of my stomach as I raced into town.
Gall stones, we were told.
Okay…Not too complicated.
But the scans showed it wasn't gall stones.
I can't even begin to describe what it's like to hear that word. There are no words.
And fear. The most intense fear I have ever known.
My whole world crumbled around me that morning.
And all my trivial, little, stupid, what I thought were "worries", immediately withered into insignificance.
Christmas came and went. As did New Year and my birthday. And my sister's birthday and my Dad's. None of us could celebrate. Nothing else mattered in the world but for Mom to get better. Days and nights were spent at the hospital, then going home and crying and not sleeping and every single thought was one of worry and dread and fear.
Some days were good but most were not. Chemo is a horrible, horrible treatment. Seeing this sweet, amazing, caring person you absolutely adore suffer, is the worst possible cruelty there is in this world. If I could have suffered for her I would have, a thousand times over. Anything but to have her in pain.
But the pain persevered. And she didn't get better.
The disease was winning and the woman we all loved so so much was slowly fading away.
She fought for three months before it finally got the better of her.
Life can be so cruel and unfair.
I remember the next day. I remember not being able to comprehend how the world still went on without her. How the sun still rose and set. How people were just going about their daily lives as normal, driving their cars and talking on their phones and laughing…when mine had virtually come to a stop. I wanted to scream at people. I wanted to tell them that nothing would ever be "normal" again and the world was a darker place because my Mom was not in it.
I wanted to tell them how wonderful she was.
She was a woman who did everything for everyone else. She was generous beyond belief. The most selfless person I have and ever will know. The kind of woman who worked hard her whole life but the moment she held her first baby in her arms, knew she couldn't leave her new little miracle to go to work. That being with this child (my sister) and her next child (me) was more important than anything any job could ever bring. (She didn't go back to work until we were raised and grown)
Even throughout her illness she would try and make us feel better. She would apologise for keeping us from our lives, even though there was nowhere else in the world we would rather be than by her side every minute of every day.
Her smile would light up a room and her laugh always, always made me feel better when I was low. She was the first person to hear all my news, to hear all of our news…because her family were her whole world. And she was the centre of ours. She had a spark, a mischief…a magic that I cannot explain.
A magic one only understands about their own Mother.
We could sit and talk for hours on end over a pot of tea. About everything. I would never, ever tire of her stories, of her company. Of just being with her. I could have listened to her forever. She had a way of making me feel special and important. She always had time for me, for everyone. That's just the way she was. Good in the extreme.
She loved life. She was always joking and laughing. She loved music and cappuccinos and Wimbledon and Strictly Come Dancing. She loved our little dog like she was her own child. She wore Chanel No. 5 every day, read from her kindle every night, got a manicure every week and went to mass every Sunday.
She gave to charities and fed wild birds and did so much good but
never once bragged or boasted or looked for praise.
She would make you feel like the most special person in the whole world.
She cooked the best roast beef I have ever known.
She listened.
And always understood.
And was always on your side.
She kissed away so many of my bruises and worries and nightmares.
She gave me the best childhood I could ever have asked for.
She loved...absolutely, unconditionally, irrevocably.
And she touched my life...and the lives of so many people.
More than she ever knew.
I was very clingy to her as a child. I remember worrying about her when she just went out shopping and would cry at the thought of anything bad ever happening to her. I would crawl into her and my Dad's bed on stormy nights and feel so safe and protected snuggled between the two of them. I can still remember that feeling of being utterly happy and protected. I hated being apart from her. And even as I grew up I let her fuss over me, spoil me, because I still needed her. I mean, who doesn't need their Mom?
And I still need her. Every day.
She was my best friend and my Mom all rolled into one and I never went a day without talking to her.
I miss her every moment of every day and nothing will ever fill that hole that she has left.
I still can't believe she's really gone. I still look for her face in a crowd. I still can't delete her number from my phone. I still go home and expect her to be there.
The world is an empty place without her and I don't know when it's ever going to feel right again.
I don't want this to be a depressing post, even though my heart is broken and tears are rolling down my face as I write this, but I just think that whoever is reading this…if you have a Mother, tell her how important she is.
Show her you appreciate her.
Because you get one Mother in this world and if you're like me, you never think anything is going to really happen to her. I thought our little family was untouchable. That cancer and all those horrible diseases happened to other people. Not us. Especially not my Mom who never smoked, never drank, ate healthily and exercised every single day. She looked after herself and did everything right.
But no one is untouchable. And that's a scary thought.
Never could I have imagined that I would lose her at this age...before I get married, before I have children. I thought I'd be old. And that she would be a grandmother. That's the way it's supposed to be.
But now there is so much in my life that she won't be there for.
I keep thinking about this time last year and how cancer wasn't a word in our vocabulary yet. We were still blissfully unaware of what was to come. I want to be that carefree person again…even if just for a moment. But I know I can't and I just have to move on.
To let go.
I still have the rest of my amazing family, my sweet man and my incredible friends. I am grateful for them every single day.
So…in the spirit of healing, there are a few things I'm doing to get through Christmas.
I'm starting my Christmas journal again. Writing helps. It's therapy for me.
I'm baking Christmas goodies and decorating the house. I made a Christmas banner for our kitchen. (Crafting is also therapy)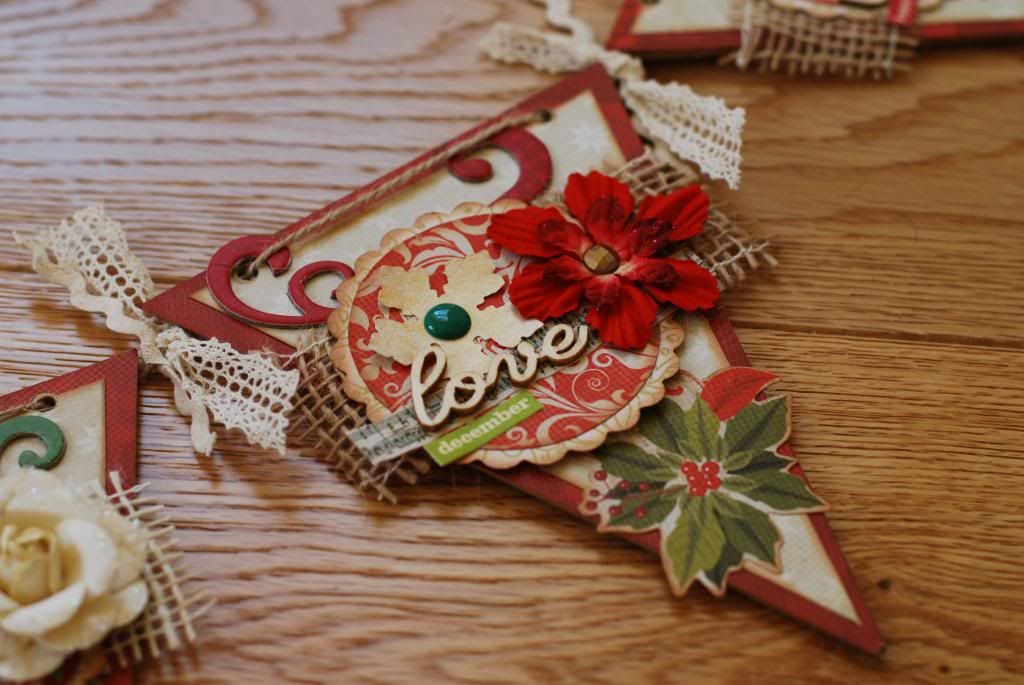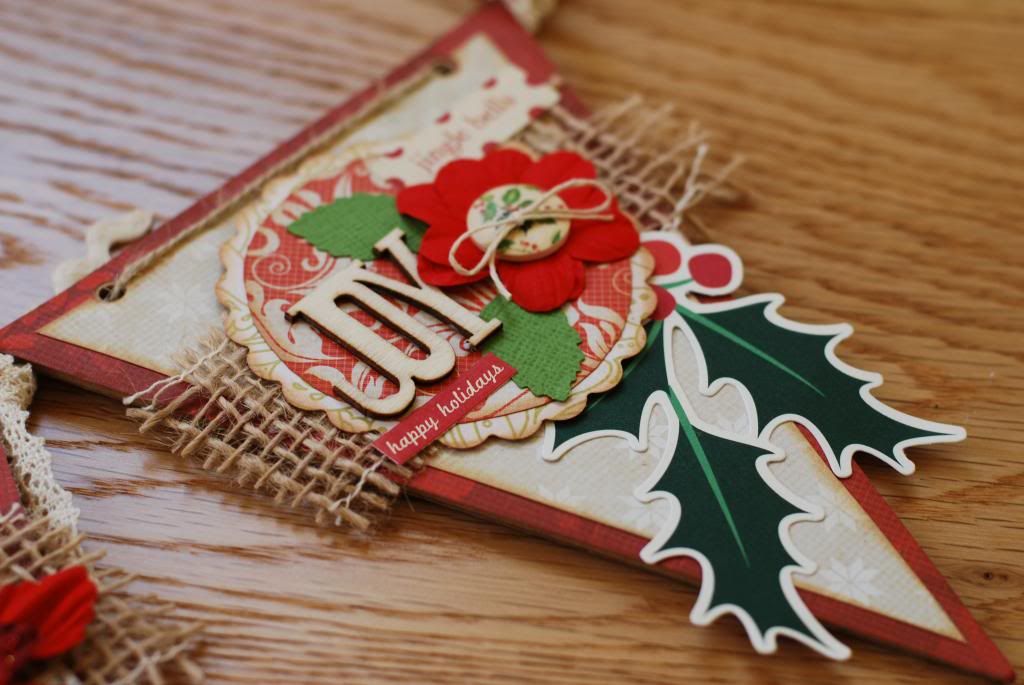 I'm doing my Christmas shopping. I'm trying to be normal. Anything but to keep my mind from thinking about how we're going to get through Christmas Day.
And we will get through it.
But most of all, I'm remembering all the happy Christmases we shared. And there were lots of them, all of them in fact, were happy.
And even though it makes me sad to think of what we've lost, I'm glad to have all those memories of good, happy times.
"Tis better to have loved and lost,
Than never to have loved at all".
And boy, did we love :)
(Thank you Mom for being so utterly amazing xxx)